During the preparation of our dishes, we use the following materials in which some people may be allergic:
cereals containing gluten, shellfish, mollusks, eggs, fish, peanuts, milk and dairy products containing lactose, nuts, mustard, sesame seeds, celery, and soya.
marinated octopus, served with Santorini fava flavoured with Chios mastic.
2.ROASTED SMOKED MACKEREL
8,00€
smoked mackerel, served with fennel and pickled samphire.
shrimp, salmon, crab and calamari breaded with oat, served with roe mousse and sweet&sour salad.
stuffed with feta cheese, tomato, garlic, olive oil, balsamic cream.
fresh Pleurotus and Portobello mushrooms marinated with a white vinegar and thyme dressing.
6.ROASTED VEGETABLES
8,00€
roasted mushrooms, tomato, eggplant, zucchini, green and red peppers served with mayonnaise, black garlic, lime and fresh oregano
zucchini stick breaded with cornmeal served with a flavored garlic and dill yogurt dip.
8.FRESH FRIED POTATOES
4,00€
feta cheese slowly grilled in baking paper with tomato, chili pepper, olive oil and oregano.
10.FETA IN FILO PASTRY
7,00€
11."MASTELO" GRILLED CHEESE
8,50€
Grilled Mastelo cheese from Chios Island with tomato relish and multigrain bread sticks
salty cheesecake with barley rusk, cheese cream and mango chutney.
served with tomato cream and fresh aromatic herbs.
feta cheese, olive oil, oregano.
4.TRADITIONAL POTATOSALAD
5,00€
traditional potato salad with peppers, onion, olive oil, mustard, lemon and fresh herbs.
5.TRADITIONAL TZATZIKI
3,50€
yoghurt mousse with spearmint, cucumber, lime, garlic and dill oil.
in all our salads we use only virgin olive oil
1.THALASSA BLUE SALAD
11,50€
rocket, lettuce, spinach, grilled white cheese "manouri", seeds, cherry tomatoes, balsamic sause.
tomato, cucumber, onion, olives, feta, peppers, croutons, capers, pickled peppers, parsley, oregano, virgin olive oil.
3.CUCUMBER AND TOMATO
6,00€
tomato, cucumber, onion, pepper, olives, olive oil, oregano.
iceberg, tomato, cucumber, chicken, corn, moustard vinaigrette, crouton.
Melon, prosciutto, fresh green salad, cherry tomatoes, nuts and citrus fruits dressing.
Assorted salad leaves with smoked salmon, avocado, cherry tomatoes, quinoa seeds, drizzled in honey, garlic and mustard dressing.
mixed green salad, cherry tomatoes, bread sticks, marinated fruits with framboise vinegar and stamnotyri (white cheese) dressing.
lettuce, radicchio, carrots, cherry tomatoes, cream cheese, sesame, cranberry honey dressing, orange and cranberries.
9.STEAMED VEGETABLES
8,00€
steamed broccoli, cauliflower, beetroot, country herbs, carrots and olive oil.
fresh squid breaded with cornmeal, parsley oil and green salad.
fresh shrimps with fresh herbs oil and soybean dip.
SHRIMPS IN TOMATO SAUCE
15,00€
fresh shrimps clearance, with tomato sauce feta cheese, chily and oregano.
fresh mussels without casing, slow fried in hot tomato sauce, feta cheese, oregon.
fresh mussels in shell with a sauce of red sweet pepper.
fresh varius shells with anise and fennel, olive oil and lemon.
SEA FOOD (PRICE PER KILO)
Ask the Manager for our the fresh seafood
GRILLED CALAMARI
40,00€ / kilo
A whole fresh squid grilled, with dip of Aeolis sauce.
FRESH SHRIMPS
65,00€ / kilo
FRESH LOBSTER UPON REQUEST (with pasta or grilled)
skewer of swordfish, salmon, tuna, shrimp, octopus, squid, with grilled vegetables and lime dressing.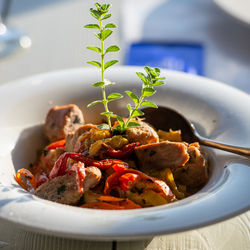 with vegetables, sauted with white wine and flavored with lemon zest and thyme.
SALMON FILLET ΟΝ GRILL
14,00€
grilled salmon, served with boiled vegetables and lemon dressing.
MIX SEAFOOD (2 PERSONS)
36,00€
sardines, squid, salmon, octopus, shrimps grilled, olive oil and lemon.
ROASTED FRESH SARDINES
9,50€
grilled sardines flavored with citrus fruit, cherry tomatoes and thyme.
served with fresh green salad and cherry tomatoes.
FRESH FISH (PRICE PER KILO)
Ask the Manager for the daily fresh fish you can order
Dentex • Seabream Greater • Amberjack • Swordfish
65,00€ / kilo
Red Mullet • Bluntsnouted mullet • Plaice Gilthead • Cod • Sea bream • Seabass
55,00€ / kilo
Sea bream (Fish farm) • Seabass (Fish farm)
40,00€ / kilo
1."THALASSA BLUE" BURGER
11,00€
minced beef (250 gr) on the grill in crispy brioche with bacon flavored mayonnaise, lettuce, tomato and BBQ sauce. Served with country style French fries.
matured beef meat (≈500 gr) grilled with crisp baby potatoes, thyme, smoked salt and flavored truffle olive oil.
3.TENDERLOIN SOUVLAKI (KEBAB)
10,50€
fresh pork on the grill with lemon and thyme dressing, served with basmati rice and sautéed vegetables.
fresh chicken fillet marinated in olive oil and fresh herbs served with cabbage salad and grilled baby potatoes.
5.MIX GRILL FOR 2 PERSONS
22,00€
Chicken steak, burgers, pork gyros, tenderloin. Served with pitas bread, French fries, feta dip and BBQ sause.
Ask the waiter for available plates
3.ATHOS STYLE FISH SOUP WITH WHOLE FISH
Upon request
Upon request. Price depended on the selected fish
Risotto with mussels in shell, mussels, shrimps, Parmesan and herbs.
Wild mushrooms risotto with porcini and truffle oil.
1.SPAGHETTI AL POMODORO E BASILICO
8,00€
spaghetti with tomato sauce, garlic, basil.
2.LINGUINI AL SALMONE
13,00€
Salmon, tomato, vodka, clotted cream, fresh herbs.
3.STUFFED RETANGOLI WITH SALMON
14,00€
fresh "retangoli" salmon stuffed, cheese cream and fresh herbs.
chicken fillet, tomato sauce, peppers, mushrooms, white wine and clotted cream.
5.FRESH TAGLIATELLE WITH SHRIMPS
18,00€
fresh tomato sauce, white wine and fresh herbs.
6.FISHERMAN'S SPAGHETTI
16,00€
squid, mussel, octopus, shrimps, tomato sauce.
2.FRENCH MILLE-FEUILLE
6,00€
Α ll prices include13%, 24% tax
Municipal tax 0,5%
The restaurant keeps complain book